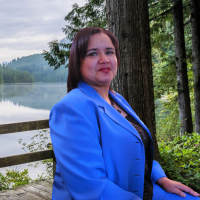 Charlene Johnson
Romantic Suspense, Paranormal Romance
Charlene Johnson is a romance author from Colville, Washington. She published five books in her Paranormal Romance series - Circle of the Red Scorpion, two books in her Romantic Suspense series - Sterling Wood, and a book in a multi-author series, Crimes of Passion. She also published multiple short stories and three poems.

Homecoming, Book 1 in her Sterling Wood series was named a 2020 Book Excellence Award finalist in the Romance category.

Blown Away, Book 2 in the multi-author series received a 2020 Silver Award from Literary Titan and a 2021 Book Excellence Award finalist in the Romance category.

Awakened, Book 5 in her Circle of the Red Scorpion series was named a 2021 Book Excellence Award finalist in the Fantasy category.

Books have been her passion since age nine. Being a daydreamer and an incurable romantic with a Cinderella complex, she started creating her own characters and storylines because she realized she had her own stories to tell.

Her quote - I've traveled the world, crossed galaxies, traveled through time, and explored history on the pages of books.

Besides reading and writing, she also enjoys photography, travel, music, and Elvis.

Websites:
https://www.charlenejohnsonbooks.com
https://www.circleoftheredscorpion.com
https://www.sterlingwoodseries.com
Video
https://www.youtube.com/watch?v=xURUGPP4Ml0
The Very first moment I beheld him my heart was irrevocably gone.
Jane Austen
A tramp, a gentleman, a poet, a dreamer, a lonely fellow, always hopeful of romance and adventure.
Charlie Chaplin
Youre dangerous he says.
Why
Because you make me believe in the impossible
Simone Elkeles
I would change the way humans interpreted the word vampire forever.
Lauren Hammond
A true test of someones love is how they act when theyre stressed and not how much they love you when everythings goin good.
T.R. Graves